The Philippine Identification System Act (PhilSys) aims to establish the first single national identification system for all citizens and resident aliens of the Republic of the Philippines. Signed into law by President Duterte in August 2018, the valid proof of identity will simplify public and private transactions by:
Promoting seamless social service delivery.
Strengthening financial inclusion for both public and private services.
Enabling remote, paperless, and cashless transactions.
As of mid-May 2021, nearly 35 million Philippine citizens had signed up for PhilSys.
Of those, almost 34 million applied through house-to-house registration, and more than 800,000 citizens registered online. (Philippine Statistics Authority). Online applicants must book an appointment at a PhilSys center for the next step, which includes biometrics enrolment.
To date, the Philippine Postal Corporation has delivered more than a million PhilID cards nationwide. Assistant Secretary Rosalinda Bautista of the Philippine Statistics Authority (PSA) says the door-to-door delivery of physical PhilID cards may take as long as six months after an applicant completes Step 2 of the registration process (the face-to-face biometrics capture).
The PhilSys mobile ID will bridge the gap
The PSA plans to launch a mobile ID to be used while applicants are waiting for their physical ID cards. The mobile ID will be activated sometime in 2021, the agency announced on August 18. Once the mobile ID is operational, PhilSys registrants can start making transactions using their PhilSys Number which provides secured, reliable identity verification both offline and online.
PhilSys: Better access to services, movement toward a digital economy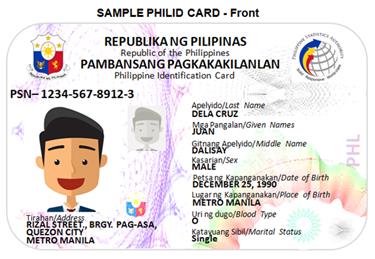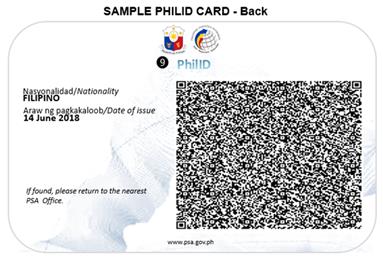 The PhilSys will transform how services are delivered and accessed in the Philippines and accelerate the transition to a digital economy. According to the country's National Economic & Development Authority, the new system will:
Make services more accessible. PhilSys will give all Filipinos access to financial, social protection, health education and other government services.
Promote ease of doing business. It will provide a platform for the government and private sector to identify and verify customers in a digital and automated manner during both in-person and online transactions.
Reduce identity fraud. The system will uniquely identify each registered person at a national level.
Enable and promote participation and trust in digital government and the digital economy. PhilSys should promote a broad transition to digital, online citizen-centric service delivery by the government and the private sector.
Empower Filipinos with greater control over their personal data. PSN-holders will determine who sees what data about them when carrying out transactions. This will create greater transparency and accountability for how data is used in the Philippines.
A foundational digital ID system, PhilSys will enable the Philippines to move away from inefficient and expensive physical documents, processes and credentials to the use of digital equivalents.
(image source Manila Bulletin)
Design and Security Features of Philippine Identification Revealed
An individual's physical ID card is known as the Philippine Identification (PhilID). In late June, the Philippine Statistics Authority (PSA) revealed the design and security features of the Philippine Identification. The security features are intended to ensure the protection of each cardholder against identity theft and other types of counterfeiting. The drawings below illustrate the design and security features, both overt and covert.
Sources:
Manila Bulletin
Philippine News Agency
Biometric Update
National Economic & Development Authority, Republic of the Philippines
The Keesing Platform team brings you the latest in various fields, including security documents, security printing, banknotes, identity management, biometrics, blockchain, crypto technology and online onboarding.